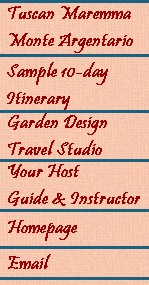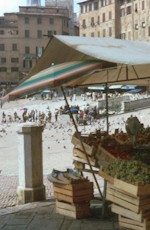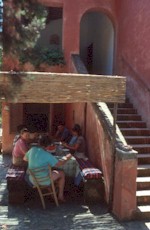 SAMPLE 10-DAY
CONTINUING EDUCATION
ESCAPE VACATION ITINERARY
January-June & September-December
This sample Itinerary is meant to illustrate the diversity of University Continuing Education programs offered and does not include time members of the group may opt for simple relaxation on the property. Each day trip is subject to weather, whether places are actually open at the time, and whether suitable to members of the group. The aim is to highlight the best of what the region has to offer seasonally, choosing from a menu of more than 20 day or partial-day outings. Rest assured an exciting and educative itinerary will evolve, with each small group being involved in refinement decisions upon arrival and on a day-to-day basis. There are daily opportunities for banking and shopping.
DAY 1: Arrival: Groups arriving, together, at the same time in the a.m. at Rome's Fiumincino Airport will be met for transfer. Or we meet at Orbetello Scala rail station for transfer to the 34ha/87acre Villa, Hortuli Osiana, at Cala Grande. Settle in, and take a short siesta, followed by an itinerary outline and discussion, a relaxing stroll on the property with a sampling of wine and olive oil in the cantinas, then an early dinner in-house *included before retiring.
DAY 2: We drive to Vulci, an Etruscan settlement with a museum, or the Tarot Garden, a huge set of monumental sculptures attracting much attention by Niki di Saint Phalle (wife of Tinguely, artist for the Paris Pompidou Center fountains). We return and drive to the mountaintop for a picnic with a panorama. Later, we stroll the harbor of Porto Ercole (called Portofino of the south) surrounded by 3 mountaintop fortresses, then spend the early evening on a lagoon to see shore birds from a WWF Oasis Reserve. We may return to an outdoor cafe for an aperitivo, then perhaps, dine out at 'Bacco in Toscana', Porto Ercole, one of the best Argentario fish restaurants, or the fisherman's cooperative restaurant in Orbetello, an excellent and reasonable alternative on the dock featuring choices from the catch of the day.
DAY 3: Drive by the Lago di Burano, another WWF Oasis, to explore the walled hill village of Capalbio, with beautiful internal spaces and impressive views from the walls over sea and countryside, lunch *included at the 'Trattoria la Torre da Carla'. On to the famous romantic gardens on the Isola Bisentina in the crater Lake of Bolsena, where the Prince Giovanni del Drago has created a giardino al'Italia set in tranquil monastic remains. The island's gentle microclimate supports a wide range of native and exotic flora and its cliffs shelter many native and migratory birds.
DAY 4 We explore lively streets and the Porto S Stefano waterfront on market day, picking up provisions for a picnic lunch on the boat to the car-free island Giglio. After exploring the small Porto we take the bus over the mountain to see the beautiful bay and Torre del Campese, returning to the mountaintop medieval walled village of Giglio Castello. We then may take a ridgeline walk overlooking the sea and vineyard terracess to Punta del Fenaio, before returning by bus, then boat. You may wish to try a fish-based menu at the fisherman's cooperative in Orbetello.
DAY 5: Classic garden villas: The Villa Lante at Bagnaia, a most magnificent, perfect renaissance garden, inspired by one of the early renaissance works on love - dream - conflict, recently translated as The Strife of Love in a Dream. The 'Dream of Poliphilo', or Hypnerotomachia Poliphili as it was entitled in Latin, influenced gardens, architecture and civic design for nearly 3 centuries. Nearby, we find the Prince Orsini's bizarre 'monster park' at his Sacro Bosco at Bomarzo, one of the most documented gardens, internationally, by various national film boards. It is a grotesque 16C assemblage of mythical and literary sources that has baffled and delighted visitors for centuries.
DAY 6: To the picturesque estate 'La Parrina'--DOC wines and local cheeses. Views over the Argentario on the way to 'Morellino di Scansano' wine country to sample, at Fattoria Le Pupille, southern Tuscany's most important reds very much favored by the Florentines recently. Lunch at Istia on the Ombrone River for typical Maremma rustic fare. Then the Uccellina Nature Reserve, famous for its last Italian virgin coastline--with dunes, beaches, hilltop watchtowers and umbrella pine canopy--one of the most memorable natural sights in Tuscany. We take a nature trail and may swim in shallow, warm waters at a pristine sandy beach, returning at dusk when best for wildlife.
DAY 7: We drive inland through rolling countryside, where there is a choice (a) or (b)
(a) two famous hill villages: but first, La Stellata vineyards, for one of Maremma's best white wines--'Bianco di Pitigliano Lunaia'--then Pitigliano, dramatically riding a spur of volcanic tufa, with lantern-lit, cobbled streets linked to each other by covered alleyways and flights of steps. We then drive to Civita di Bagnoreggio, perched precariously on an 'island' of tufaceous rock over a layer of clay in a beautifully eroded, remote valley landscape. This is perhaps the most dramatic hill village site in Italy. It has warm-colored stone buildings and narrow ways, often ending in spectacular views over equally impressive landscape. Picnic in the piazza. Admire the donkey transportation for carrying provisions from the 'mainland' over the 1/3 km footbridge, the many cosy alcoves, geraniums and pot gardens, and, a pleasant court garden with a view, made by architect Tony Heywood and Astra Zarina, architect and retired Director of the University of Washington's Rome Program in Architecture. On our return we may stop at Saturnia, to soak in natural bathtub-like formations terraced below a waterfall cascading down from thermal springs. The village lies inside a pre-Etruscan wall thought to be the first town on the Italian penninsula and birthplace of Italic civilization.
(b) if on a Sunday: the Gregorian chant mass at 1100 at the rural Abbey of S Antimo set in an inviting valley among olive groves, then a drive to Montalcino and vino nobile country, stopping to picnic and/or for wines followed by a drive through the Crete Sienese impressive landscape of clay hills with sentinal cypresses and farmhouses featured in many paintings and on photo-art calendars. We complete this excursion with a visit to Siena where we take the evening passeggiata, a stroll from the Cathedral to the Piazza del Campo, one of the most beautiful public outdoor 'living rooms' in all of Europe and site of the famous twice-annual horse race, the Palio.
DAY 8: A choice, Rome for places you missed, or luxuriant romantic gardens near Rome:
(a) By train to Rome: the Villa Giulia, fine walled gardens and the Etruscan Museum inside. Famous piazzas: Piazza di Spagna, S Peter's square, Piazza Navona with its fountain complexes and elegant cafe life, the Piazza Trevi fountain, or some places you may not have seen, like the beautiful Fontana Aqua Paola with a view over the city or the Piazza Tartaruga with its elegant turtle fountain, ending with the Piazza Campidoglio on the Capitoline hill, designed by Michelangelo, signifying caput mundi--Rome, capital and navel of the world--with its equestrian statue of Marcus Aurelius. It's a must at sunset, then bathed with night lighting, before our return train.
(b) By car to the modern (mid-20C) 10ha Giardini della Landriana, a luxuriant display of flowering plants in informal landscapes and formal garden rooms by the Marchesa Lavinia Taverna, with design help by Russell Page. We lunch, then the scented romantic gardens among flower covered ruins and rushing, sparkling waters at Ninfa, combining architectural and natural beauty of a 9ha site enjoying mild winters with an amazing profusion of plants from all over the world. British garden writer and designer Penelope Hobhouse described it as everyone's ideal perfect garden.
DAY 9: A relaxing Argentario day: at Cala Grande, strolling/shopping in the local villages, with a slow drive with short walks and spectacular vistas of coastline, beaches, terraced vineyards and olive groves, followed by dinner *included 'alfresco' at a restaurant near Cala Grande with coastal sunset view.
DAY 10: Departure: Transfer to Orbetello Scala Rail station. When members of the group depart at the same time from Rome's Fiumincino Airport, return transfer is included.



NOTE TO THE READER
The programs on this web site were intended for formal educational purposes with implementation through Canadian university design schools or university continuing education programs. The author and guide is a Canada resident. Readers are welcome to use the information in making their own travel plans.