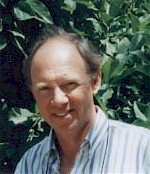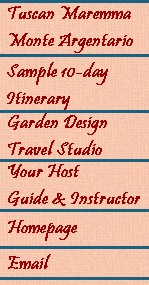 >

Hi, I'm your host-driver-guide and/or
landscape/garden/urban design instructor

I've practiced landscape architecture, ecological planning, and master planning for campuses and, during several decades of forward thinking university level research and teaching, specialized in upgrading state of the art education and planning - design for urban open space, nature reserves, parks and park systems planning, freeway route location and urban design. Special emphasis was on landscape architecture history-theory courses within the context of the history of ideas and cultural form--including the history of gardens and garden design--and site master planning-design studios (learning by doing using various approaches including Christopher Alexander's 'Timeless Way of Building' and universal 'Pattern Languages') for urban design projects, parks-open space, gardens and garden-villas, and multiple housing, including 'planting design' (how to work with the plant materials).

My travels and exposure to timeless or universal archetypal patterns more prevalent in the warmth and inspiring, ageless beauty of old world landscapes and townscapes began with a 'grand tour' year in Europe on the Charles Eliot Traveling Fellowship awarded by Harvard University.

I kept returning, on research sabbaticals, guiding student groups, on vacations, or with family with a home in Italy's Piemonte Region. The castle is like a pearl filled with wisdom and has become the crown jewel in Italy's FAI - Fondo per l'Ambiente Italiano, or National Trust. It contains the most important late-gothic secular frescoes in Europe with a profound message referring to symbolic mysteries connecting human developmental process, creativity and nature. A baronial hall is surrounded by scenes based on 14C illuminated manuscripts and mythical-alchemical-religious themes, of heros and amazon heroines, crucifixion, and an Errant knight and the Fountain of Youth. I mention these magnificent, well-preserved frescoes painted in the "international gothic" style because, after living with them in the back of my mind for many years, I came to appreciate their enduring universal power and function, seeing their deeper meaning and significance for education for the Twenty-first Century.


For an image preview of the frescoes and their setting see Photogallery - Castello della Manta

In Civilization's long course to the present, we gained then lost our myths and rites of initiation into our collective history, through the passages between the stages of life, and to access authentic creativity--from origins. We are needing to re-create and reconnect with universal mythemes in our creative-imaginal lives on a daily basis to help relieve stress, our modern anxiety and to release human potential, especially creativity that is 'originative' in nature, coming from one's 'true self'.

Experiencing meaningful art and old world architecture and landscapes embued with timeless, archetypal patterns and with mythical content -- 'in situ' -- is not only fun and educational, it is downright healthy in maintaining a balanced body-mind system grounded in our eternal being. It enables people to connect more deeply with the inner self and Divine Mystery. It allows us to find the peace, serenity and solutions that recharge, refresh and renew. Moreover, this may be essential for the safe passages we would desire between the various stages in our lives.

"Young and old people alike just grab and run with this mythical stuff." So said the illuminating and inspiring Sarah Lawrence College teacher, Joseph Campbell, in his popular guest slide lectures he gave to audiences around the world, and in a pathbreaking series in public television history, aired many times on America's PBS. "Mythology teaches you what's behind literature and the arts, it teaches you about your own life. It's a great, exciting, life-nourishing subject. Mythology has a great deal to do with the stages of life, the initiation ceremonies as you move from childhood to adult responsibilities, from the unmarried state to the married state. All those rituals are mythological rites. They have to do with your recognition of the new role that you're in, the process of throwing off the old one and coming out in the new, and entering into a responsible profession." And there are mythological rituals at work in all stages of our lives and in society, even in our creative projects and on a daily basis in our work life.

We've all seen what happens when primitive societies are unsettled by white man's civilization. They simply go to pieces, they disintegrate and they become diseased. And now, we are beginning to see that the same thing is happening to us and to our environments since our myths began to disappear. Many today don't have those fixed stars like timeless themes, which comfort with their permanence and give people a known horizon and signposts along the march of life's living. All we have to do is read the newspaper or watch television to see that the world is a mess. So on the immediate level of life's living and structuring myths offer us life models. They put you in touch with that quality of instinctually being that is the universe. It's the 'zoom' of being alive and in the world. It is spiritual and our brains are wired with a spiritual hunger for things beautiful, but there is a lack of adequate experience of things beautiful in the world.

I accumulated nearly 20 years experience abroad on vacations, and on sabbaticals discovering many things beautiful in landscapes, townscapes and cultural monuments while studying in and traveling from Switzerland, or as travel-study professor and coordinator for France, Switzerland and Italy, based in Italy.
I lived for longer periods in 4 Swiss Cantons and in Italy's Piemonte Region. I always had a car and I'm an experienced driver, attentive to passenger comfort, while being familiar with the cultures and landscapes. I have escorted and guided educational groups at all levels, including both younger adult and mature university students, continuing education groups and seniors, using leased vehicles, chartered busses, and public bus, boat and train systems.
I have the backgound in understanding and the forward looking vision to be your meaningful and inspiring natural and cultural landscape, garden and urban design guide. It includes a more deeply rooted perspective on inspired design, universal qualities in environments that are timeless, and an archetypal-mythical understanding of spaces and places.

I was born in Canada, in an agricultural community on the Lake Erie shore near Point Pelee National Park. As a child I spent considerable time on a large greenhouse farm surrounded by flowers, green plants and propagation tables in the welcome earthy smell and warm humid atmosphere in contrast with the cold of northern winters. I grew up with a strong interest in nature and environment. I began studies in ornamental horticulture then obtained the Bachelor of Science in Landscape Architecture from Michigan State, and hold the Master LA Degree from Harvard University. One of my early projects was responsibility for overall site design on the consulting master plan team for the University of Guelph's expansion, now mostly completed in the form of people places, pedestrian circulation, plantings, new buildings-sited and roads, parking and service access. When I graduated from Harvard, to my astonishment, I won the Charles Eliot Fellowship for Travel and Study in Europe. This prize, awarded once every few years when funds accumulated, allowed me to travel widely for a year to experience European places. A further grant from the Conservation Foundation in Washington enabled me to stay in Morges, Switzerland on the Lake of Geneva, to prepare for the International Union for Conservation of Nature (today's World Conservation Union), a detailed problem-solving guidebook, Planning for Man and Nature in the National Parks: reconciling perpetuation and concentrated visitor use. It was published by IUCN and UNESCO and was distributed to national parks worldwide, as several decades of more sensitive and sophisticated cultural and ecological planning were set in motion.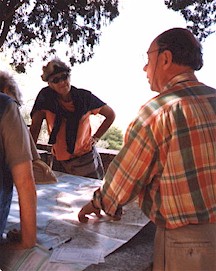 I returned to Canada and teaching at the University of Guelph for 16 years as a senior faculty innovating in teaching and research. I was active in Community service, an Executive Member of the Conservation Council of Ontario and spokesman for parks, planning and environment issues to various Provincial Cabinet and government committees including protective action leading to the Niagara Escarpment Commission and a World Biosphere Reserve. I built and lived in an experimental part passive solar heated greenhouse-conservatory country home in a natural setting. It was designed with technical help from an architect-teaching colleague and was of general interest: featured in Process Architecture, Japan Architect and in Swiss and German architecture journals, Canadian Architect, Canadian Home and syndicated newspaper supplements and on CBC-TV.

ECODESIGN WITH HUMAN NATURE
What follows in the chapters linked below under the above title are the emergent beginnings of a book, in progress, offered to stimulate discussion on new approaches to environmental design and education. It was constellated in the unconscious long ago during a White House Conference on Natural Beauty and it is now rising to the surface, creatively, after several decades evolving 'in the hopper'. This is an on-going work in which the first few chapters are offered for the reader's perusal and hopefully your comments and input. The travel enthusiast will find background material here on the traditional 'Grand Tour' for the artistic/scientific personality and alternative spiritual and meaningful travel. It is the philosophical rhizome on which these and previous semester abroad travel programs sprang forth, having an environmental education option with deeper meanings for groups who may be interested and request it during future itineraries. It may be of interest to anyone concerned with the quality of natural and cultural environment, how it interacts with the soul and our humanity, how it may influence human health and spirit.
It is perhaps of particular interest to students, educators and practitioners in architecture, landscape architecture and urban design, garden design, landscape design, open space planning, park design, interior design, urban planning, natural areas planning, and ecological planning or ecosystem management. It is in a modest way a kind of epistle shared from the perspective of hindsight -- an open letter from the heart -- to anyone concerned about the 'ARCHE' and the 'TECHNE' of built environment, in improving the human and planetary condition.
Out of necessity, today, the work of the planner, designer or builder must encompass both art and science and/or technology. Creating environment is challenging and exciting as we attempt to walk a tightrope in the process, balancing what frequently may be seen as total opposites from the viewpoint of: quality v quantity/costs -- organic/natural v artifice/fads/styles -- subjectivity v objectivity -- romanticism v classicism -- spirit/compassion v matter/materialism -- heart/humanism v head/hubris -- yin/feminine principle v yang/masculine.
The entire HISTORY OF CULTURAL FORM, including built environment, illustrates an ongoing battle between these forces in which from time to time, one or the other rises up, gains control, rules to an extreme, only to be overtaken by the opposite in compensation. The key to enjoyment for the student, practitioner, homeowner, or anyone appreciating the quality of built environment -- whether in countryside, gardens, open/recreational spaces, townscape and urban places, buildings and construction -- is to develop a more spiritual and instinctive 'innerstanding' to complement an in-depth, intellectual 'understanding' of all of the resources and forces, how they operate within the individual and society and how they need to be balanced to sustain healthy people and environments.
The material was written from a more psychologically conscious perspective. It embraces the opposites with the hope it may spare others the pain suffered from cultural onesidedness, and the costly and arduously long awakening process of the lonely pioneer. From having to be one of the creative few to question the conventional wisdom of our inherited planning - design traditions. They are based on rather one-sided approaches evolved as 'Mechanization Takes Command'--title of a book by Sigfried Gidieon written in the middle of the previous century. Mechanization indeed 'overtook' professions and civilization, alienating the human soul in the process, thus paving the way forward for a new millenium marking the turning point for a new astrological era as well.
We have entered the so-called 'new age'--symbolized by Aquarius--often pictured historically by a female figure measuring out water from earthenware jars. Water is a symbol of the collective unconscious, the source of all creativity and ideas. The water is now contained and is therefore capable of being poured in digestible, assimilable doses for those on the receiving end. It means the time has arrived, the informative contents from the unconscious are no longer overwhelming as the raw oceans whipped up with hurricane force. The meaning is for widespread dissemination of a new and holistic worldview as presaged mythologically in an earlier arrival scene, in Botticelli's painting of 'Venus' of Renaissance times. It symbolized arrival of the goddess of love and beauty born of the feminine principle. Venus was bourne on a shell arriving on the tide animated by a fresh sea breeze moved by a renewed breath of spirit from above.
Today, there is a greater survival imperative for a fresh 'new wave' of eco-humanism. It signals an urgent agenda for planetary sustainability. For planners and designers in particular, it would mean to re-embrace, 'en renaissance', to become re-attuned to the 'quality' issues, of 'value', and 'values' emanating from the inner landscape in the unconscious, together with a more in-depth global initiative for environmental planning and design. One with an ecologistic - holistic view of the world. One which will inform humankind on the necessity and the ways to creatively, and (Nota Bene) to 'consciously' and with 'conscience'--i.e., with an inner feeling or voice acting as a guide to the rightness or wrongness of one's behaviour--exercise a critical role in planetary survival. Henceforth, for the sustainability of the species we have to recognize the only in-group of importance anywhere is the planet itself.
The work is based on the personal experience of one who traveled far and made many discoveries in life's ongoing journey to transcend the opposites in wider consciousness. It took place over many years teaching landscape architecture, landscape planning, research, community service, professional practise and the experience of life in general... whilst cultivating the inward garden, observing, researching and contemplating the connection and the relationships between inner and outer landscapes, creativity, and the unfolding of human personality in realizing the potentials of a greater self.
The perspective may be of interest to those following the inspired 'art' of garden design, or who garden for both physical and inspirational sustenance, and to the men and women in the healing professions -- particularly art, horticulture, music, nature and sandplay therapies -- and to those interested in mythology, religion and archetypal depth psychology including the analytical psychology of C. G. Jung.

For a good idea for inspired design see The Art of Landscape Design Semester: 'Grand Tour EU-Traveling Seminar' and 'Italy Studio' 'Understanding - Accessing - Nurturing - Sustaining the Wellsprings of Creativity'.

For more on work in progress, background and research for these 'Meaningful Travel-Study Programs with a Vision' see Foundations the internet pages for the book:
ECODESIGN WITH HUMAN NATURE(c) Richard Forster

NOTE TO THE READER
The programs on this web site were intended for formal educational purposes with implementation through Canadian university design schools or university continuing education programs. The author and guide is Canadian resident in Canada.
With projected ongoing socio-economic and political crises and breakup of the Eurozone, venue for programs on this website may be shifted to Canada. Focus on education of feeling and intuition for ecodesign of built environments remains.